St. Luke's Youth Run
It's never too early to start running! Gather up the kids and join us for the Kids Run event for children ages 3-14.
Each participant will receive a free t-shirt and the experience of participating in a non-competitive race that promotes healthy exercising habits for youngsters. Each age group will run in separate races with appropriate distances.
ONLINE REGISTRATION is now CLOSED. You can also download this PDF and bring it with you on April 27 for Race Day registration.
DATE – Saturday, April 27, 2013
START TIME – 3:00 pm
(Check in 1:00 pm – 2:30 pm)
COURSE
Start and finish take place in front of  Holiday Inn Allentown,
9th and Hamilton Sts. Allentown, PA
ENTRY FEES – FREE
*All participants receive a free t-shirt!
Online registration closes on Friday, April 13. Your children will have the opportunity to sign up for the race in person on April 27.
CHECK-IN: All check-in and race day registration will occur across the street from Holiday Inn Allentown at PPL Plaza. Do not enter the expo to register or pick up your child's bib.
DISTANCES
• 3-4 year old – 1/8 mile
• 5-6 year old – ¼ mile
• 7-8 year old – ½ mile
• 9-14 year old – 1 mile
SCHOOL AWARD:
The schools with the most number of students registered to run the St. Luke's Youth Run are eligible to receive a cash award which will presented to the school's physical education department in May.
$500 – 1st prize; $300 – 2nd prize; $100 – 3rd prize
Again in 2013, our friends at the American Heart Association will be hosting a free family health and fitness expo in the grassy area to the east of PPL Plaza. Take part in sports and activities, get smart about fitness and nutrition and learn other ways your family can live healthier together.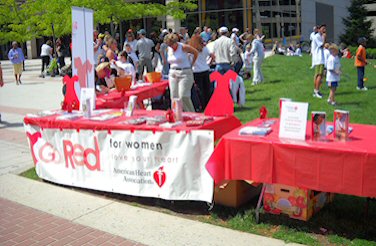 A Scenic Course

Run through Allentown's outstanding park system. Enjoy more than a dozen live bands along the way.
Learn More ...
Watch Our Videos

Check out videos from race-day, view runners' personal stories and watch Chef Jamie prepare delicious and healthy treats. View Now