St. Luke's Youth Run
It's never too early to start running! Gather up the kids and join us for the St. Luke's Youth Run event for children ages 3-14.
Each participant will receive a free t-shirt and the experience of participating in a non-competitive race that promotes healthy exercising habits for youngsters. Each age group will run in separate races with appropriate distances.
DATE – Saturday, April 25, 2015
ENTRY FEES – FREE
*All participants receive a free t-shirt! T-shirts are guaranteed to those children who are registered by April 14, 2015.
Online registration closes on Wednesday, April 22 at 11:59 p.m. Your children will have the opportunity to sign up for the race in person on April 25.
START TIME – 2:40 pm
(Check in 1:00 pm – 2:30 pm)
CHECK-IN: All check-in and race day registration will occur across the street from Holiday Inn Allentown at PPL Plaza. ** Do not enter the expo to register or pick up your child's bib. **
COURSE
Start and finish take place in front of PPL Plaza, 9th and Hamilton Streets, Allentown, PA
DISTANCES
• 3-4 year old – 1/8 mile
• 5-6 year old – ¼ mile
• 7-8 year old – ½ mile
• 9-14 year old – 1 mile
SCHOOL AWARD:
The schools with the most number of students who complete the St. Luke's Youth Run are eligible to receive a cash award which will presented to the school's physical education department in May.
$750 – 1st prize; $500 – 2nd prize; $250 – 3rd prize
Results
All official results are now posted online.
Visit this link to view your results.
Official Race Photography
Download your official race guide today.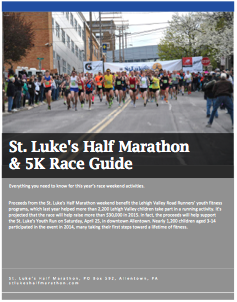 Live results on your smartphone!
Download the Queen City Timing Results app to your Android or iPhone and get live results on race day.