Tell us your story
Why do you run? What has it done for you or for others? How has running motivated you to do things you never thought possible? Have you overcome (or are currently battling) a disease or condition that running helps you cope with? Are there family stories of joy or sorrow that involve your running? We want to know.
Simply send an e-mail to yourstory@stlukeshalfmarathon.com and share your thoughts with us. Don't worry about perfect grammar or spelling. We're forgiving. A small group of race committee volunteers and St. Luke's representatives will review your stories and select three St. Luke's Running Stars who will be honored at the Pasta Dinner on Saturday night.
We may also like to share your story with newspapers or television stations. Please let us know if you *do not* want us to forward your stories to either our local media or your hometown media.
We look forward to reading your stories. Let's have 'em!
Runners: We do not allow refunds, deferrals or bib transfers for any reason.
We are sorry that you _________ (fell ill, got hurt, had a change of plans, etc.) but you signed our waiver and read our emails. All of our communications indicate these rules.
If you sell or give your bib to someone else this is considered race banditing and will not be tolerated.
Download your official race guide today.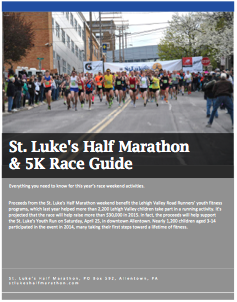 Live results on your smartphone!
Download the Queen City Timing Results app to your Android or iPhone and get live results on race day.
Official Race Photography