Race Day Info
Timing Chips and Bibs
We will be using single use ChronoTrack B-Tag as a timing device to time you throughout the race. Please ensure the following in order to receive an accurate time.
Race bib is clearly visible on the front of the torso
Race bib is unaltered and unmodified (Do not fold or wrinkle)
Race bib is pinned in all four corners
Race bib is not covered (jackets, runner belts, water bottles, etc.)
Remember to run across all timing mats. It is also important that you wear your bib on the front of your shirt. Failure to probably wear your bib and timing chip will result in you not receiving an official time.
Your time will start as you cross the start line and stop as you cross the finish line. Do not trade bibs with another athlete.
Half Marathon splits will be available at the 10K mark.
Unregistered Runners
Any unregistered runners caught wearing a bib of another runner for any reason will be disqualified and will not receive an official time for our race. If someone else runs with your race bib they are not covered under our event insurance and this could pose a serious situation if something were to happen to them while out on the course. Please refrain from breaking our policies and selling your race bibs to runners who have not registered for our events. We allow bib transfers and race deferrals (for one year only) in order to cut down on bandits.
Headphones, Strollers and Dogs
It is against race policy to wear headphones, earbuds, run with a stroller or run with your dog in our races. This is for your safety and the safety of your fellow runners, and in accordance with our insurance policy.
Race Day Bib Pickup
For those who registered to pick up their race bibs on Sunday morning: Bib pickup takes place inside the William Allen High School Gymnasium between 6:15-7:15 a.m. Our volunteers will clean up promptly at 7:15 a.m. in order to fulfill their volunteer duties elsewhere that morning.
Buses
Three buses will start shuttle service from four local hotels (listed below) to the Allen High School Gym (at the starting line) which will be open for staying warm if chilly, stretching, and for indoor rest rooms starting about 6:15 a.m. and will run continually until the start of the race.
BUS ROUTE: Wingate Inn, Comfort Suites, Holiday Inn Express, and Howard Johnson's
For other hotels you must speak to the hotel to see if they would be willing to provide shuttle to the race.
Getting Back to Hotel or Parking Lot
At the end of the race, buses will be available at J. Birney Crum Stadium (race finish) to shuttle runners and spectators back to the Holiday Inn Center City, Wingate, Comfort Suites, Holiday Inn Express and Howard Johnsons with a first stop at the Fairgrounds parking lot for those who drove.
Parking Locations
Free parking is available at the Allentown Fairgrounds which is a two block walk to the Allen High School Gym. You can enter the parking lot via 17th & Liberty. For directions to the Fairgrounds go to this page. The Fairgrounds parking lot is patrolled by the Allentown Fairgrounds Security. Please arrive early to park in the Allentown Fairgrounds lot to avoid the crowds.
Starting Area
Runners will be escorted from the Allen High School gymnasium and assembled outside along Turner Street according to your starting time. Runners will then be lead to the starting line along Linden Street. The 5k runners will line up first and start their race at 8:00 am. Once the last runners leaves the starting area the half marathoners will line up.
There will be three starting corrals grouped according to your bib color: Corral 1 (Green Bib) is for anyone planning to run a predicted finish time under 1:49:59. Corral 2 (Yellow Bib) is for a predicted finish time between 1:50 to 1:59:59. Corral 3 (Blue Bib) is for a predicted finish time of 2:00 and above. Visit this page for more information about start times and race bibs.
Clothing Drop-Off
All baggage will be collected at the curb-side drop off area located on Turner Street just outside of the main entrance to Allen High School's gymnasium. This is just one block up from the starting line. Bags will be delivered by truck from this point to the Baggage Claim tent near the finish line in J. Birney Crum Stadium. Please ensure that your tear off bib tag is attached to your gear bag. This will enable us to return your bag to you quickly and efficiently. It is also advisable to place a card showing your name and bib number inside of your bag. In the event the bag tag comes off, this will permit the volunteer staff to assist you to claim your bag.
Items left along the route at any spot will be considered a donation to a local charity and will not be returned.
While we take the utmost care with all items left at the gear drop areas, we DO NOT recommend putting valuable or expensive items like cameras, car or house keys, cell phones, money, watches/jewelry, expensive clothing, or otherwise in the gear drop bags.
Pacers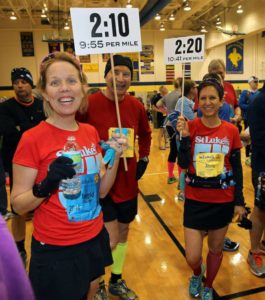 The pace team will be pacing the half marathon race. The pace team will be assembling in the gymnasium on race morning and will move to the start corrals approximately 15-20 minutes prior to the race start. They will be carrying signs with the time in which they will finish the race (hours and minutes).
You can also visit the St. Luke's Half Pace Team on Facebook to ask questions and find out more information.
Pace groups for the following half marathon times: 1:30, 1:35, 1:40, 1:45, 1:50, 1:55,2:00, 2:10, 2:20, and 2:30.
Port-A-Potties
Portable bathrooms will be located at the start of the race, finish line, and at miles 2.5, 3.5, 5.5, 11.
Aid Stations
The half marathon aid stations will be located every 2 miles throughout the half-marathon course. Each aid station will be equipped with water and Gatorade.
Honey Stinger energy gels and bars will be available at mile 9. Flavors include Organic Acai Pomegranate and Organic Vanilla (100 calories each), as well as Organic Lemon Waffles (160 calories each).
There will be an aid station for the 5k race which runners will pass by twice. The station will be equipped with water and Gatorade and is located at mile 1½.
Miles/Turns/Clocks
Each mile for the half marathon course will be accurately marked as certified by the USATF. There will be a clock at the start and finish.
All of the turns will be clearly marked by a sign and staffed by a uniformed volunteer or law enforcement. Please obey their instructions; they are there for your protection and safety.
Course Time Limit
You must complete our event in 3 hours. The half marathon course will be closed at 11:15 AM. All runners must maintain a pace of 13:44/mile that enables them to cross the finish line no later than 11:15 AM. Runners falling behind this time will be required to move to the side of the road or sidewalk and obey standard traffic laws such as stopping at stoplights and intersections. Aid stations will not be available after 11:15 AM.
Half Marathon Cheering Locations
There are many good locations to cheer along the half marathon route. We offer spectator buses which will take your family and friends to the intersection of 15th St. & Martin Luther King Blvd. and the Covered Bridge in Lehigh Parkway. Buses will load spectators in front of Allen High School on 17th Street. All buses will run continually throughout the race.
Buses are free for spectators. Please understand that as per the bus company's regulations, we cannot allow dogs onto the buses.
Results
The timing company will have results available to runners in the finishing area so that runners can check their final time. The results will be posted at the upper concession stand in J. Birney Crum Stadium.
Results will also be posted to our website as quickly as possible. Due to the large number of runners in their year's event, as well as our dedication to accuracy, results may take a day or so to post. Please keep checking back to the website. Individual results will not be emailed.
Awards Ceremony
The awards ceremonies for both race distances will be held on the J. Birney Crum Stadium field, and adjacent to the finish line. Awards will not be mailed, so please be in attendance if you expect to win an award.
Overall and Masters awards will be based on gun time per USATF rules. Age group awards will be based on chip times:
8:45 a.m. – St. Luke's 5k Awards Ceremony
10:45 a.m. – St. Luke's Half Marathon Awards Ceremony
Massage Therapists
Several massage therapists will be available near the finish line offering post-race massages to runners at no charge. These massage professionals are offering their services for free, so please make sure and thank them profusely! Their services are limited to runners only.
Family Fun Walk Start/Finish
The St. Luke's Family Fun Walk will start on Linden Street between 17th & 18th Streets. The walk will begin at 8:20 a.m. and head west to Cedar Beach, through the park, and finish in J. Birney Crum Stadium.
Volunteers
Our race doesn't exist without our volunteers. If you have friends or family that aren't running, but want to be part of the experience, encourage them to volunteer. We welcome both individuals and groups such as church, scout, work, school, or neighborhood groups. If you know someone that may be interested, they can volunteer by sending our race director an email at racedirector@stlukeshalfmarathon.com.
Finally, if you're participating in our race, you've benefited from the generosity of a volunteer. While we take every opportunity to thank them ourselves, please help us out and tell the volunteers what a great job they're doing. We firmly believe we have the best volunteers in the world and they deserve to hear it often!