Race Expo
All participating athletes must visit the Race Expo to pick up their race bibs and shirts. Along with the race number and shirt, exhibitors including retailers, personal trainers, nutritionists, and charity partners of the race will be at the Expo. There will also be great bargains on running and fitness gear, free sampling and information on equipment and nutrition. The Expo focuses on the health, fitness and wellness of runners and endurance athletes.
GENERAL INFO
EXHIBITORS
PARKING & DIRECTIONS
General Info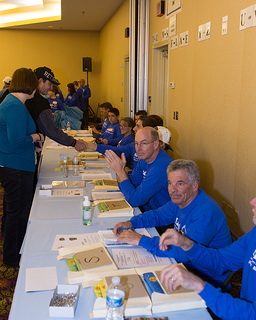 DATE AND TIME
Saturday, April 21, 2018
9:00 a.m. – 5:00 p.m.
LOCATION
St. Luke's Half Marathon & Expo will take place at Holiday Inn Allentown Center City, 904 West Hamilton Street.
GPS Coordinates: 40.60096901132449, -75.4756611585617
Holiday Inn is located between 9th and 10th Streets in Allentown.
Admission to the expo is free and is open to the general public.
BIB and SHIRT PICKUP INSTRUCTIONS
In order to pick-up your race bib at the Expo you will need the following items: Photo ID.
If you need to have someone else pick-up your bib, you must complete the following steps:
Provide the person picking up your race bib with a copy of your photo ID. They will be unable to pick up your things without this.
At the Expo, the person picking up your race bib presents the copy of your photo ID at Packet Pick-up.
RACE DAY BIB PICKUP
Race day bib pick-up is available on Sunday, April 22, 2018, but only if you paid for that option during the registration process. The deadline to purchase Race Day Pickup was March 15th. No exceptions.
The fee for race day bib pickup is $25. There are no exceptions.
Race day bib pick-up is available from 6:15 a.m. to 7:15 a.m. at the Allen High School Gymnasium prior to the start of the race.  ** If you did not pay for Race Day Pickup your bib will NOT be available.
Exhibitors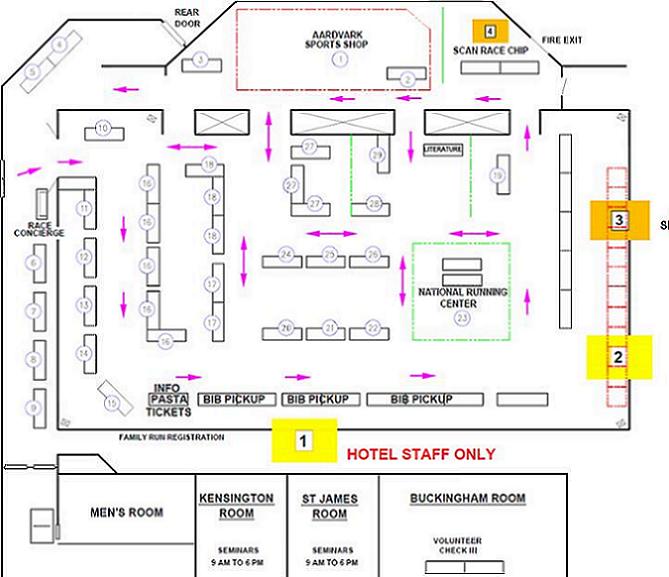 Click map to enlarge
2017 TABLE / VENDOR
1 – Aardvark Sports Shop
4 – Literature Table
5 – Special Olympics
7 – LVHN Marathon for VIA
8 – Cancer Support Community of the Greater Lehigh Valley
9 – Girls on the Run Lehigh County
10 – Boutique at the Rink
11 – Lehigh Valley Road Runners
12 – Fueled by Success, Inc.
13 – Words from the Wise
15 – Runner's World Half & Festival
16 – Physical Therapy at St. Luke's
17 – St. Luke's University Health Network
18 – St. Luke's Center for Nursing Excellence
19 – RUseeN
20 – CK Running Events
21 – The Seltzer Group
22 – New Balance Saucon Valley
23 – National Running Center
24 – The Stick
25 & 26 – Easton Outdoor Company
27 – David Akers
28 – Fitness Central
Rev3 Triathlon Pocono Mountains
Parking & Directions
PARKING
There are several parking decks and lots where you can park your car only a short walk away from the expo. Street parking is available along Hamilton and the city's many side streets.
Spiral Deck at 820-836 Linden St. (former Hess's.) Free parking on Saturday until 3:30 p.m.. After 3:30 the fee is $6 to park.
Farr (flat) lot at 20-32 N. 8th St. Paid parking on Saturday.
Fountain (flat) lot at 923-933 Walnut St. Free parking on Saturday.
9th & Walnut deck at 9th & Walnut. A paid lot which is adjacent to hotel. $1/hr
Hotel will validate your ticket ONLY if you are a hotel guest.
Hamilton Street will be closed from 8th to 11th Streets from 2:00-4:00 p.m. due to the St. Luke's Youth Run.
DIRECTIONS
Please go to http://www.mapquest.com and enter the address below as your destination.
Holiday Inn
9th & Hamilton Streets
Allentown, PA 18104