Browsing articles in "News"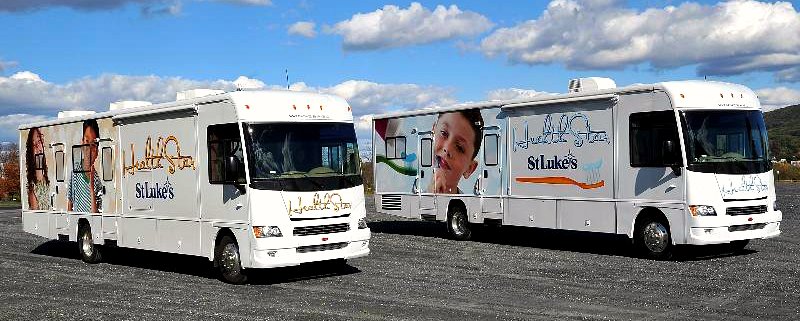 If you missed your chance to get into our race this is your second chance.
We will be opening up 100 special entries for the St. Luke's Half Marathon on March 20th to raise money for the Mobile Youth Health Centers (MYHC) program, a division of St. Luke's Community Health. The mobile units provide free medical and dental care to local middle-school and high-school students who might otherwise not receive treatment. Through visits made by St. Luke's HealthStar vans during school hours, thousands of students who do not have a family doctor or insurance are able to receive care that is vital to their health and well-being. In addition to dental exams and sick-visits, the program features counseling on a variety of topics including nutrition, smoking cessation and dating violence. St. Luke's MYHC is offered to eligible students at select city schools in Allentown and Bethlehem.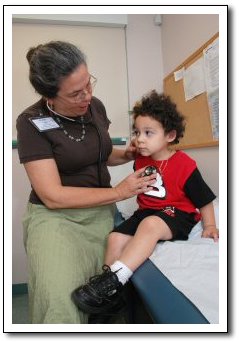 Each entry will cost $100. All of the money will be donated to the St. Luke's HealthStar Mobile Health Clinics. That will total $10,000 if we sell all 100 spots.
We are pleased to give runners a second chance to enter our race and, at the same time, help our neighbors.
Registration for these spots will close April 10, 2015.
31st running of region's largest and most beloved distance race
ALLENTOWN, Pa. — Registration for the 2015 St. Luke's Half Marathon and 5K races, Sunday, April 26, 2015, will open October 1, 2014, at stlukeshalfmarathon.com. The 2015 St. Luke's Half Marathon will mark the 31st running of the event, securing its place as one of the region's oldest and most beloved road races.
The 13.1-mile race continues to be the largest running race in the Lehigh Valley. Up to 3,400 runners are expected to toe the line next April. All proceeds of the race benefit youth running and fitness programs in the area. More than $30,000 was raised in 2014 for youth running programs.
Runners are encouraged to register early. The St. Luke's Half Marathon and 5K typically sell out in February – nearly three months before race day — with the field limit of 4,000 runners for the half and 750 for the 5k. All runners must register online.
Again in 2015, runner amenities will include personalized bibs, hydration stations, more than a dozen live bands along the race route, a unique finisher's medal, tech shirt, stadium finish, complimentary bus travel for spectators, extensive post-race lunch, shower facilities, and much more.
"It's a great course through Allentown's city parks. And we offer incredible value in terms of the amenities and entertainment. It is one of the spring's premier races on the East Coast, attracting runners from more than 30 states and several countries," said Neal Novak, co-race director.
The entry fee for the half marathon is $55 between Oct. 1 and Oct. 31, $60 between Nov. 1 and Dec. 31, and $65 from Jan. 1 through sellout. The 5K entry fee is $30 until Oct. 31, $35 between Nov. 1 and Dec. 31 and $40 through sellout.
Registration has also been opened for the St. Luke's Youth Run on Saturday, April 25, 3 p.m. in downtown Allentown. The free run for children aged 4-13 seeks to promote healthy exercise habits among young people and expose them to the excitement and reward of running.
Also open is registration for the St. Luke's Family Fun Walk on Sunday, April 26. The free, 1.5-mile non-competitive walk begins immediately after the half marathon and 5k and ends in J. Birney Crum Stadium where racers cross their respective finish lines.
The St. Luke's Half Marathon Weekend is produced by the Lehigh Valley Road Runners. It is one of the largest races in the country with an all-volunteer staff. The 2015 events mark the fifth year that St. Luke's University Health Network has been the presenting sponsor.
# # #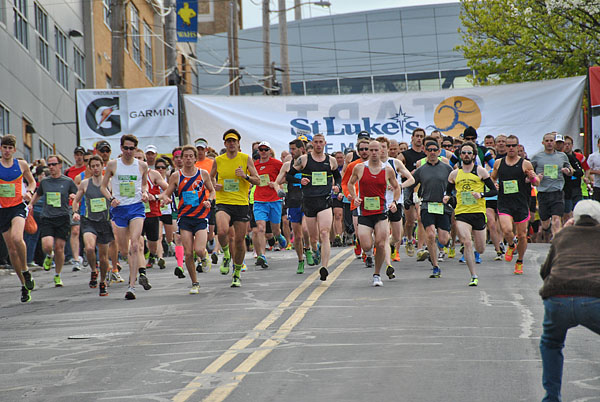 ALLENTOWN, Pa. (April 27, 2014) – Two new champions captured the men's and women's St. Luke's Half Marathon crowns for the first time since 2008.
Matt Lutcza, 23, Collegeville, Pa., was the top male, finishing in 1:09:32. He took more than a minute off his 2013 second-place time of 1:10:59. Lutcza, a 2012 graduate of nearby Moravian College, trains with a group of Lehigh Valley runners that includes five-time women's champion Kathleen Jobes. "I didn't go in thinking I would win this, so it was a nice surprise," Lutcza said. "We were in the chase pack for a long time. We finally caught up to the leaders in the Parkway. When we hit the roads again, I just tried to make sure to keep pushing."
Marisa Orsson, 22, Shavertown, Pa, won the women's title in 1:18:43 – a more than four-minute victory over her closest rival. It was only her second half marathon. She said the support of fans and fellow runners helped motivate her. "I was kind of out in no man's land most of the race," she said. "At the (mile 4.6) turnaround, there were lots of runners cheering me and it was really motivating."
Nearly 2,800 runners completed the 13.1-mile race on a cool, mostly cloudy day in Allentown. The temperatures were ideal for distance running: 44 degrees at the 8:10 start and rising slowly into the 50s with a westerly breeze.
Lutcza bested a tight field that included two former St. Luke's Half Marathon winners. Second place was Terrance Shea, 40, Lewisburg, Pa in 1:09:42, only 10 seconds behind Lutcza. The 2010 champion, Kevin Borelli, 32, Dickson City, Pa. took third in 1:09:52. Ian Walsh, 28, Easton, Pa., who won last year's title, was fourth in 1:10:42 and David Strauss, 21, Orefield, Pa., captured fifth in 1:11:59.
For the second straight year, Jenny Cronin, 23, Palmerton, Pa., was the runner-up, clocking a 1:22:58. Jessica Roberts, 27, Arlington, Va., was third in 1:27:21. Kristin Karwacki, 34, Macungie, Pa. captured 4th in 1:27:22, and Jessica Chin, 27, Arlington, Va., rounded out the top five with a time of 1:27:40.
Runners from more than 20 states were represented at the 30th running of the St. Luke's Half Marathon, the largest single-day athletic event in the Lehigh Valley. The course took runners through the roads and parks of Allentown, including the Lehigh Parkway, which has been noted by Runner's World magazine as one of the top 100 places to run in the country.
The companion St. Luke's 5k race was won by Brandon Fritz, 20, Allentown, Pa., in 17:09. Jobes took the 5k women's crown in 17:38, good for third overall.
This year was the fifth year that St. Luke's University Health Network has sponsored the event, which included a family fun walk on Sunday and the St. Luke's Youth Run on Saturday, April 27. More than 750 children aged 3-14 participated in the free event on Saturday on Hamilton Street in downtown Allentown. Proceeds from the St. Luke's Half Marathon and 5k benefit youth fitness, health and running programs across the greater Lehigh Valley.
Photo credit: Jill Forsythe
# # #
5K REGISTRATION IS CLOSED
100 entries for the half marathon are open until April 10 or sell out, whichever comes first. More info here.
Live results on your smartphone!
Download the Queen City Timing Results app to your Android or iPhone and get live results on race day.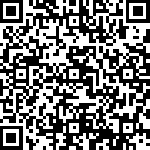 A Scenic Course

Run through Allentown's outstanding park system. Enjoy more than a dozen live bands along the way.
Learn More ...
Watch Our Videos

Check out videos from race-day, view runners' personal stories and watch Chef Jamie prepare delicious and healthy treats. View Now